I thank the Lord who, through the International Service Committee of my Community, called me to participate in the vigil of 31 October organised by CHARIS. It was unexpected for me and I never thought I would be a part of it! It was a wonderful experience shared with other brothers and sisters from all over the world, and although we each spoke our own language, we were united in the Spirit. I hope that this meeting will not be the last but that there will be other moments to share together maybe even live. God bless you.
Giusy Avvisati – Italy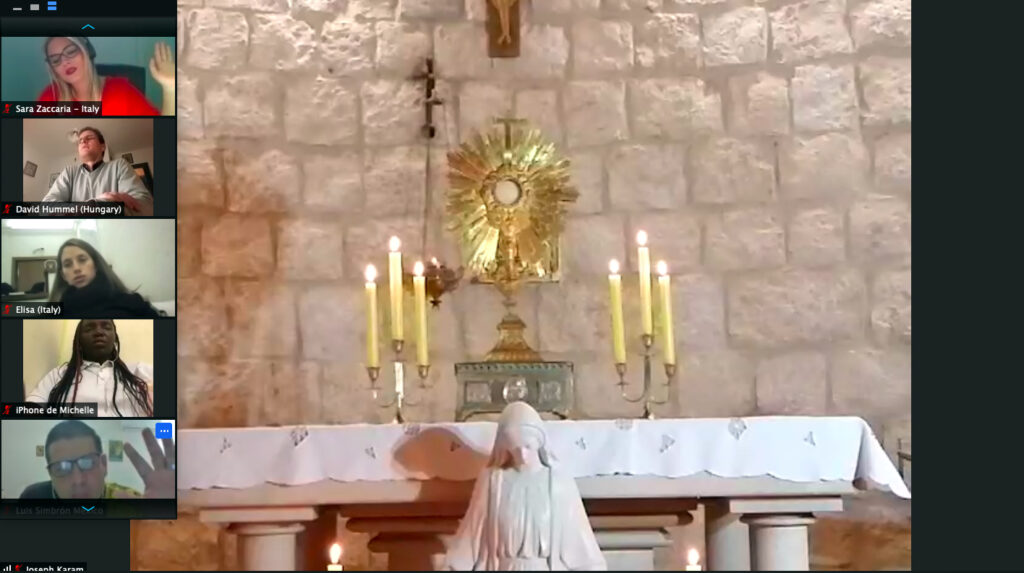 On October 31st I participated together with some young people from my community in the vigil organized by CHARIS. The days before the event were accompanied by great joy and emotion and fellowship among us young people called to put to service the gift of singing in tongues. I felt a strong sense of communion and at the moment of singing in tongues, animated by about 200 people connected on zoom, I felt the fire of the Holy Spirit, that with His wind went through every person present connected from his home and gathered together from the whole world in one voice, that of the Spirit. Despite the difficulties of the live broadcast, at that moment we were deeply connected; it seemed as if we were all there in person, in the presence of the Lord who took us by the hand to raise up great praise to Him and go beyond all physical and even spiritual barriers. What I feel in my heart is a deep gratitude to the Lord for calling me first to perform this little service and filling my heart. It was beautiful because the Lord has rekindled in me the desire to serve Him even more, in particular with singing… in these days He is continuing to call me back to this and to speak to me. He is inviting me to discover new ways of communication and evangelization… Roads that were unknown before and I didn't even think could be feasible, like using the tool of the web to raise up great praise to him.
Angela Mulas – Italy
"We are your instruments that you must tune, and form a harmony that rises and spreads your praise". On October 31st during the event "Created 4 greatness" organized by CHARIS International, I heard these words loudly., During the song of praise, the young people from 50 different countries of the world seemed like they were in my own room, not behind the web; they were with me in the Spirit, my brothers and sisters. Sharing such an experience with the young people of my community and charismatic young people from all over the world gave me a gift of unity, happiness, strength, but, above all, hope. Not only we young people, but all of us in this historical period really need strength and hope, which the Lord, in the unity of the faith, can and knows how to give us.
Annalia Grassi – Italy
My experience at the CHARIS vigil was completely new, starting with the fact that it was online and that it was an experience that involved young Charismatic people from every country in the world. The most beautiful moment of this vigil, and the main reason why we were called to participate representing our community, was the singing in tongues which, as a result of a song performed by a foreign band, created this very intense moment of prayer which I personally didn't think I could get so involved in, since it was a prayer from a distance. I am sure that this experience will remain with me, especially thanks to the brothers with whom I shared it, who made it special.
Giampaolo Quercia – Italy
"A night of surprises", this is how I define the evening I attended the CHARIS vigil; from the sense of fraternity with the boys in my community, to the union I felt with people I didn't even know. Initially, I never expected to experience all this, I always have a hard time putting myself in prayer through the web but, during the evening, I felt part of something great: a girl called to serve the Lord through the gifts that He has given her. During the adoration and singing in tongues of all the young people, I strongly felt the power of the Holy Spirit. We were no longer alone but, as we young people in the same community saw, "one voice turned to God". With this evening I rediscovered the beauty of being together and living the Lord's love to the full, always with that spirituality which never leaves us.
Marina Tota – Italy
The vigil of CHARIS was a special night: a river of grace poured over me and all those who participated! I, an Italian, am in France at university, but that night all physical distance was broken down in the name of Him who gave His Blood for us! I felt close to all my Italian brothers and sisters and, again, to all the brothers and sisters of the world: on a night when the world celebrates death, we had the joy and honour to celebrate Life, the Resurrection! A little piece of Paradise has entered my new residence and that fullness of the Holy Spirit continues to accompany me in this new experience! Thank you CHARIS! Thank you Pope Francis! Thank you Jesus, because once again you have brought Light into my life!
Marco Gargiulo – Italy
Holiness was the theme of the vigil organized by CHARIS for charismatic young people. As soon as I read the theme of the vigil, in my heart I felt that the Lord had foreseen for us young people a strong moment of love, joy and union that would remain in my heart. And so it was. The vigil was an explosion of joy. More than 200 young people were connected, from all over the world, everyone spoke a different language, we could have had problems understanding each other, and instead harmony reigned, we could understand each other without problems because we all spoke the same language, the language of love. It was only thanks to the anointing of the Holy Spirit on each of us that we were able to transmit to our brothers and sisters at home what we lived, an immense love! We young people need the love of Jesus to be announced to us. The true love that gives freedom, heals the deepest wounds, gives you strength to get up after a fall, above all it gives without wanting anything in return. We young people need to feel loved. All together we have lived a wonderful experience. It is beautiful to be called to service, there is nothing more beautiful than to serve out of love and love to serve. Through service you make yourself an instrument of the Lord, but at the same time you are not left with empty pockets; on the contrary, He fills them twice as full. During the vigil I experienced even more the power of serving the Lord and came out of it built up. I thank Jesus for calling me to serve you every day. Thank you Jesus for filling my heart with your immense love.
Carmen Franzese – Italy
It was incredible because I grew in love and respect for Christ and the community. In my littleness I felt the overflowing love of the Most Holy Trinity. It was a force that developed in my soul and that still pushes me towards Christ, my Lord. It has been a source of inspiration and strength, and I hope to participate in it many more times. May God bless our journey today and always, Shalom.
Luana Meus – Brazil