CHARIS SERVANT LEADERSHIP COURSE ONLINE
Be rooted and built up in Christ (Col 2:7)
Il Corso CHARIS Servant Leadership (CSLC) è iniziato!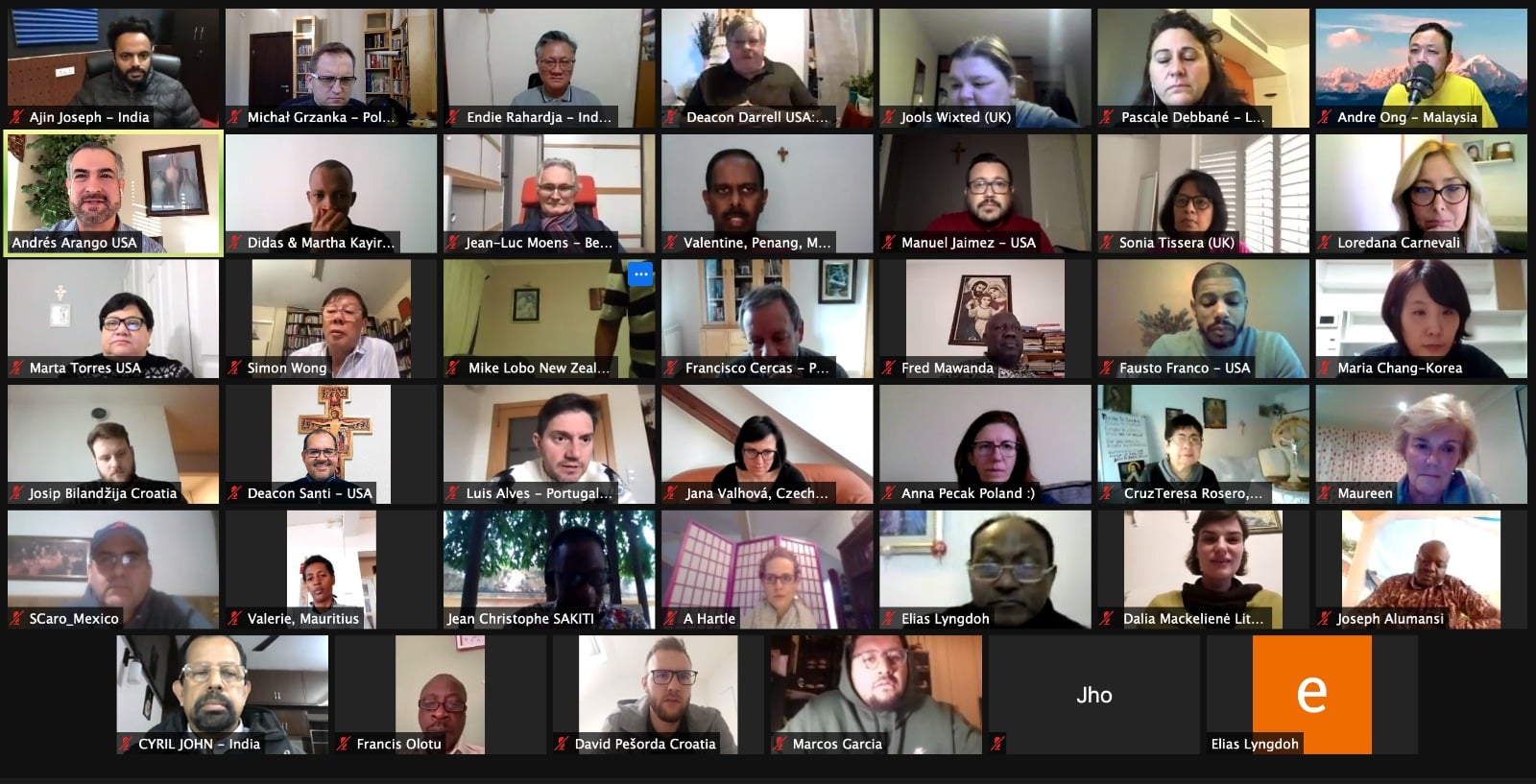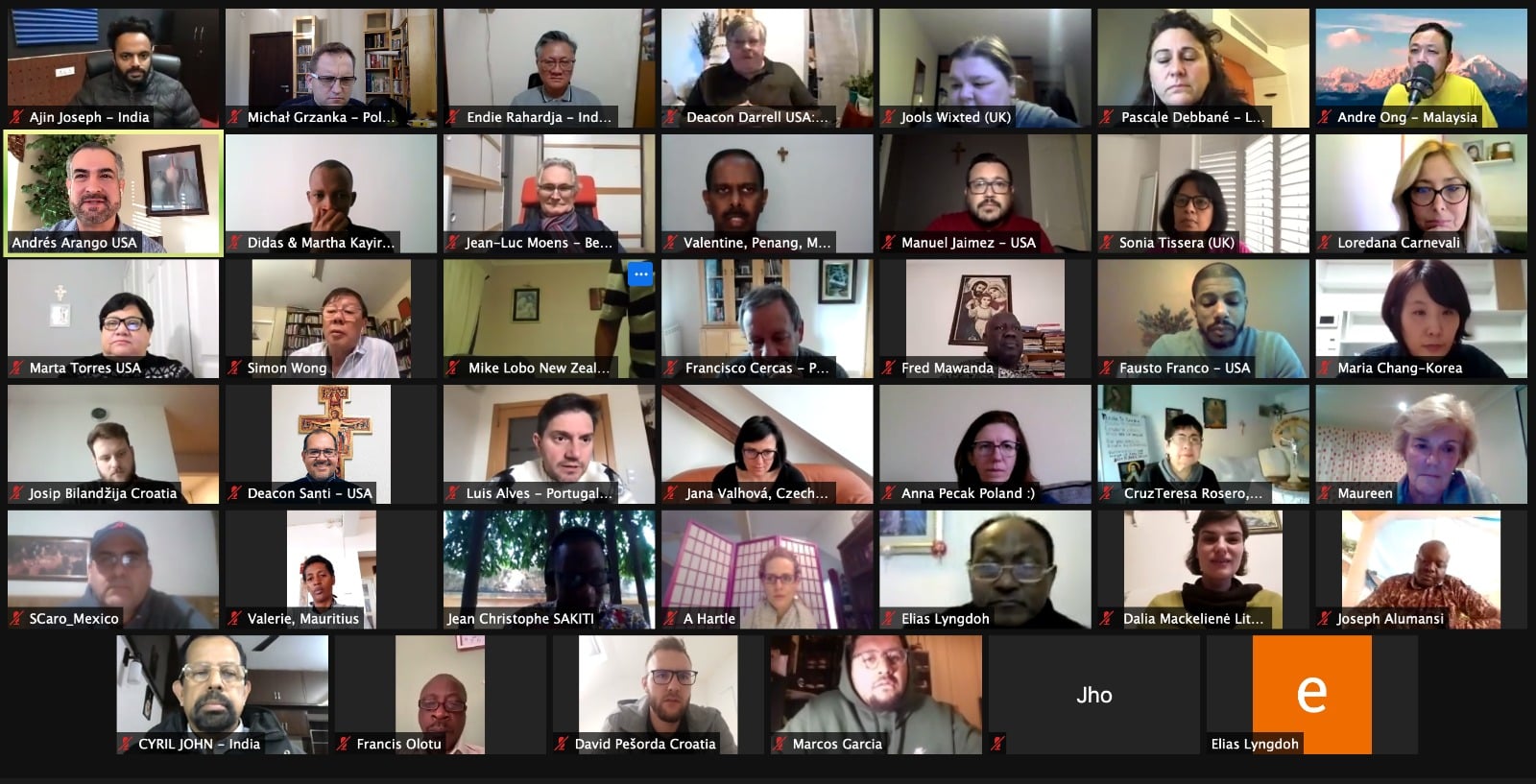 Incontro ZOOM tra il team di formazione e i facilitatori
Il Corso CHARIS Servant Leadership (CSLC) è iniziato a gennaio 2021 in inglese. Date le circostanze e la volontà di aprire questo corso al maggior numero di persone, la commissione di formazione CHARIS ha deciso di offrire il corso online. La risposta dei partecipanti ha confermato la necessità dell'apertura: 490 persone si sono registrate da 55 paesi di tutto il mondo!
Il corso è composto da 14 sessioni di video training (una a settimana) che richiedono 2h/2h30 di lavoro personale ogni settimana: 1h/1h15 per seguire il video, un'ora per fare il lavoro personale che viene richiesto alla fine di ogni video. Ogni partecipante fa parte di un gruppo di condivisione.
Si prevedono anche due sessioni di Zoom con gli insegnanti e il corso avrà fine ad aprile 2021.
C'è stato un grande dinamismo da parte dei partecipanti che hanno mostrato fin dall'inizio una sete di conoscere meglio la corrente di grazia, nei suoi fondamenti e prospettive, di scoprire la storia e l'identità del RCC, arrivando agli ambiti pratici (evangelizzazione, intercessione, carismi, ecc.). Questo corso è un fermento di unità tra i partecipanti, un'unità che è tanto più bella perché va oltre i molti limiti geografici e fisici.
Il CSLC è già stato tradotto in polacco e promosso dal Servizio Nazionale di Comunione della Polonia.
La versione francese del CSLC è in preparazione e dovrebbe essere disponibile entro ottobre di quest'anno.
Il corso è tenuto totalmente in inglese.
We are living in a particular moment in the world, in which one, we are called to use the new forms of communication for evangelizationand formation. Also, for so many persons who are not able to attend onsite courses due to financial limitations.
Goal: train servants of the Charismatic Renewal in important areas of our mission in the church.
Place: On-line/Virtual Platform
Launch Date: January 2021
Length:14-week course
Content:
Area Teaching the Foundations/ Passing on the Vision: 
1.       History and Identity of the CCR
2.

      

CHARIS mission
3.       Ecclesiology
4.       Theology of the Holy Spirit (Pneumatology)
5.       Baptism in the Holy Spirit
6.       Ecumenism
7.       The Good News (Jesus) 
Area of Practicum:
8 .      Elements of a prayer meeting
9.

      Evangelization
10.     Intercession
11.     Life of a Leader
12.     Service to the Poor
13.     Charisms
14.     The Body of Christ (Community)
Teachers:
Cardinal Raniero Cantalamessa OFMCap
Bishop Peter Smith
Dr. Jean-LucMoens
Fr. Etienne Veto
JosephTosini
Dr. Mary Healy
Cyril John
Jean Christophe Sakiti
Jim Murphy
Bro. James Shin
Andres Arango
Jean Barbara
Charles Whitehead
Michelle Moran
Participants: open to anyone with the experience of Baptism in the Holy Spirit around the world.
Key Features:  
Anointed Praise & Worship by national bands
Pre-recorded video of 1 hour duration
1 powerful teaching per week
To be uploaded on What's App group
Total 14 teachings
Teaching assignments to be submitted within a week
Live Zoom sharing in groups
Live Zoom interaction with teachers
Online Course Certificate will be issued
Important note:
For those who register from Europe we inform you that it is better to pay by bank transfer, in this way you avoid paying fees to Paypal. (the fee varies between 6 and 8 euros)
After having registered, you can proceed to make the transfer to:
CHARIS bank account coordinates:
Name: CASA PROCURA INTERNAZIONALE DI CHARIS
IBAN: IT59 H030 6909 6061 0000 0175 159
BIC Code: BCITITMM
Please send an email to accounts@charis.international attaching a scanned copy of the payment.
How does
the CHARIS Servant Leadership Course online work? What is its pedagogy?
The course is made up of 14 video training sessions (one per week) which require 2h/2h30 of personal work each week: 1h/1h15 to follow the video, one hour to do the personal work which is requested at the end of each course. It is also necessary to allow time to participate in the sharing groups and the two Zoom sessions planned with the teachers.
The course begins of Friday January the 22nd.
In concrete terms, here is what will be proposed to each student:
1 – A general WhatsApp group will bring together all students. It is through this group that they will receive all the practical information they need to follow the training week after week. This is an information group. Students will not be able to put messages in this group.
2- Every Friday from 6:00 AM (New Delhi time), our technical team in India will put on YouTube the teachnig of the week. This teaching will only be available for 10 days and then it will be removed. Students will be notified by the WhatsApp general group of the url address to view the teaching. It is therefore imperative that each student view the video within 10 days.
3 – At the same time as the teaching, students will have access to the teaching handout and personal work requested by the teacher. This work must be between 200 and 250 words (no more).
4 – Each student will be part of a small WhatsApp sharing group of about 10 people, led by a facilitator. These small groups will be formed by grouping students by time zone. Each member of the group will submit his personal work (see point 3) to the group by the following Thursday after the video is released.
5 – In WhatsApp small groups, students can also ask questions. The facilitator can forward them to the course staff and teachers.
6 – At the end of each part of the course (foundations and area of practicum), a Zoom meeting (or perhaps different time zone meetings) will take place with the professors. They will answer the questions that have arrived in writing.
7 – At the end of the course, a diploma will be sent to all participants who have shown that they have completed the entire course.